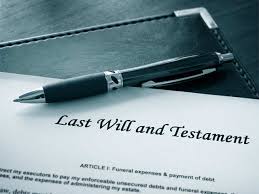 In a recent survey carried out by Royal London, it was discovered that only 40% of UK adults have written a Will.  A fifth of the respondents claimed they hadn't made a Will because they did not have anything of value to pass on.  However, 16% of these did, in fact, own a property which is probably the most valuable asset a person could own.
Since the start of the coronavirus pandemic law firms have seen an increase in people wanting to make a Will but not as many as expected.  A survey by Handelsbanken in April 2020 found 22% of people asked did not have a will and had no intention of making one despite the pandemic and 10% felt making a Will was 'tempting fate'.
We advise everyone to make a Will or to at least take legal advice about their circumstances so they can make an informed choice as many people do not know the law.
If you do not have a Will the law of inheritance is governed by the Intestacy Rules, and they are strictly applied with assets passing down your bloodline.  Without a Will you have no control over where your assets pass following your death, including going to relatives you do not have contact with or even know.  By making a Will, as long as it is valid, you can ensure your estate passes to those you wish it to.
For example, many couples nowadays do not get married but, if an unmarried couple own a property together as tenants in common, and do not make Wills, the surviving partner would not inherit their partners' half of the house, or any other assets they had in their name, as a partner is not treated the same as a spouse under the Intestacy Rules, they will received nothing.
In your Will you can also make arrangements for your funeral, provision for any pets, smaller gifts to friends, family or charities and most importantly name guardians to look after your minor children in the event of your death.  This will hopefully help avoid any family fall outs after your death and security for your children.
It is also very important to keep your Will under regular review (we recommend every 5 years) to ensure it is still relevant and, if not, changes can be made to it.   It would be a good idea to review it also following any major life event such as, buying a property or having children or getting divorced and even if you were to receive a large inheritance.  It is important to note that if you make a Will before you are married and subsequently get married, the marriage will revoke your Will and so it is important that a new Will is made following the marriage to ensure your wishes are carried out.
If you do not have a Will and would like to make one, or if you wish to update a Will you already have, please contact us to discuss it further.