A Highly Experienced Team
Vinesh Mistry and the rest of the Residential Property Team are

highly experienced and deal with all aspects of residential property transactions.

Our team has over 50 year's collective experience in dealing with all aspects of Residential Property transactions. Each member of staff within the department has dealt with numerous transactions and our experience helps us achieve our clients' expectations in a timely manner. Using this experience we can give the appropriate advice and guidance at each stage of the transaction to help ensure a smooth and stress free process.
We have strong reputation in the local property market and have close links to local estate agents and mortgage brokers to help us ensure the best possible service for you.  Our client retention rate is impressive to say the least and results in us being instructed by clients all over the UK.
Whilst it is commonly accepted that moving house is a stressful event, we will do everything possible to ensure that the process runs as smoothly as possible. We provide detailed information, in straightforward terms, about exactly what is involved at each stage of the transaction.  A dedicated lawyer will look after your matter from start to finish and you will always be able to contact a member of the team by telephone or by email to deal with your queries along the way.  We also offer clients the facility to monitor their transaction online.  Our lines of communication help to co-ordinate all those concerned in a transaction and maximise the chances of a successful result.
We are accredited members of the Law Society's Conveyancing Quality Scheme (CQS) which provides a recognised quality standard in residential conveyancing.  We annually undergo assessment by the Law Society in order to secure our CQS accreditation, which indicates that our residential conveyancing process is reviewed each year so that we can continue to improve our standards and give you the assurance that we will provide a high professional standard together with excellent customer service.  We take pride in providing a personal yet professional service.  We conduct detailed due diligence so that clients have peace of mind and can proceed with confidence.
A significant proportion of our work comes to us from recommendations from existing clients, estate agents and mortgage brokers who have heard of or experienced first-hand our excellent client care.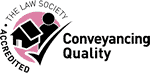 Our

Expertise

Selling & Buying Houses, Apartments & New-Build Properties

All types of conveyancing transactions can be handled whether you are a first-time buyer, need increased space to cope with a growing family or are down-sizing to free up some capital.

Buy to Let Purchases & Investment Property

Our team can assist with the sale or purchase of an investment property and the associated paperwork, including mortgages, tenancy agreements and deposit schemes.  Our Dispute Resolution colleagues can advise when there are arrears of rent or if you have problem Tenants.

Tenancy Agreements

Whether you have one second home or several tenanted properties we can advise with regard to the Tenancy Agreements and the service of any notices to bring those to an end.  We can also offer assistance with regard to Tenant's deposit schemes to make sure that the rules are followed.

Remortgages

Moving your mortgage from one lender to another has become increasingly popular as lenders offer competitive rates in relation to interest and repayment terms.  We can undertake all of the legal work required to repay your existing mortgage and complete the new lender's documentation in accordance with their requirements.

We also deal with Help To Buy Redemptions.

Auctions

By purchasing a property at Auction you can pick up a real bargain. You do need to make sure that you speak with our team of Lawyers before you bid so that we can check the terms of the Contract and the Title to the property concerned. If you are selling at Auction we can prepare the necessary Auction Pack and ensure that the legal aspects of the transaction are completed correctly.

Transfers To Family Members & Gifts

There may be a number of reasons why a transfer to another member of your family is required, for example on divorce or for sound tax planning purposes. Expert legal advice is essential and we can liaise with our colleagues in the Private Client Department to ensure that any additional advice on tax implications or any possible impact on other family members is provided.

Adverse Possession

If you have been in possession of land but do not have any documents that confirm ownership you may be able to apply to the Land Registry for Possessory Title. Advice on the likelihood of a successful application can be provided.

Purchase of Land for Development

North Ainley has substantial experience in acting for Developers both big and small as well as dealing with plot sales and can offer the particular advice required whether your development is purely residential or mixed-use.

Possession Claims

Whether you are a Landlord or a Tenant of a residential property specific rules apply if a Landlord is seeking an Order for possession from the Court. Our Dispute Resolution Team can provide advice on the form of notice terminating a Tenancy and on any subsequent proceedings.
Residential Property – Fees Information
For full details of our fees and the disbursements payable please click below.  If easier, please feel free to contact us by telephone so that we can provide you with a detailed estimate of our fees and the disbursements payable and to discuss any other requirements you may have.
Our Team
Your matter will be allocated to a lawyer within the Department.  Regardless of who works on your matter, they will be supervised by Vinesh Mistry, Partner and Head of the Residential Property Department.
Testimonials
What our

clients say
Considering we were dealing with Wills during COVID I thought North Ainley responded in an appropriate manner regarding Government Guidelines.
I had the pleasure of speaking to Cassie as the property I was buying had a few issues.  Cassie was absolutely brilliant, professional all through the process. Excellent work. Thank you.
Fantastic service, particularly given the Coronavirus situation. Many thanks to Cassie.
Great service provided by Jill Gregory despite COVID 19 restrictions.
Thank you and your colleagues for your help with this difficult piece of business.
All the staff at North Ainley were very professional and incredibly efficient during my house sale. Special thank you to Kirsty who's problem-solving skills helped complete the sale in spite of the global pandemic happening around us! Thank you.
Zoe Ashton dealt with the matter honestly, openly and everything was made clear. Gave a feeling of satisfaction and knowing it was sorted out for the future. Thank you so much.
Special thanks to Cassie.
The service provided in these difficult times was excellent. I have no complaints whatsoever.
Thank you Vinesh & Cassie.
Thanks for all your help Jill.
Michelle Gordon who dealt with the sale of my property was excellent, extremely helpful and very polite. I would certainly recommend Michelle.
You were dealing with my mother's estate, so due to this I had obviously lost my mum and was upset. You took over and told me not to worry, you dealt with everything, let me know regularly but didn't mither me unnecessarily. I felt I was you only client. Well done!!
Excellent service all round. Could not have had better. Thank you.
Both Jill and Sophie were extremely helpful, pleasant and remarkably patient at all times.
Friendly, prompt service and advice. Any hold ups were not due to North Ainley. Thanks for everything.
The sale of the house was far from straight forward but Cassie was absolutely brilliant throughout. She was extremely responsive to communications and made me feel as if I was top priority, despite the heavy workload she no doubt has. She made the whole process as painless as possible. Thank you.
We were very happy with the service. Thank you.
Excellent service. I am very happy and hopefully I will come back to you in the near future. Thank you very much.
I would recommend your firm, staff to my relatives and friends without reservation because of the caring, professional and friendly approach of your staff team. I have been lucky enough to meet with and speak to several of the team and all have acted within this framework, they are a credit to the name North Ainley. I know we are in strange times at present but that did not stop your team especially Laura Campbell from pursuing and completing my case. Once again, thank you all for your help, support and successful result in my case.