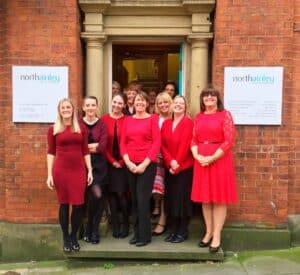 Staff at North Ainley recently donated money to wear a red item to support the Child and Family Connect 'see RED' campaign.
Child and Family Connect is a charity which hosts 5 individual contact centres in Bury, Rochdale, Oldham, Bootle and Southport and provides invaluable support to local families.
See RED was a simple fund raising idea introduced by the charity for firms of solicitors to show their support and raise desperately needed funds.  Monies raised would help these centres to remain open and continue to provide a safe, neutral and comfortable place for children of separated families to see their non-resident parents and sometimes other relatives.
When relationships break down heightened emotions often make it difficult for couples to communicate with each other and this can impact upon the children and arrangements for their care.  In the majority of cases it is very important that children are allowed to maintain a relationship with both parents and those who are important to them.
You can contact the contact centre direct to apply or can be helped by your social worker, Cafcass officer, the mediation service or your solicitor.
Our family team have a wealth of experience in these matters and understand the distress and heartache that surrounds all matters arising out of the breakdown of a relationship including arrangements in respect of the children.
Both our family solicitors are members of Resolution.  Alison is an Accredited Specialist and Collaborative Lawyer.  For more information contact Alison or Lucinda who offer a free no obligation initial appointment to discuss your matter and further options.
For further information please contact our Family Department on 0161 624 5614