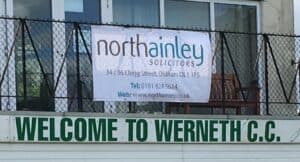 North Ainley are happy to sponsor the annual cricket match between Hulme Grammar 1st 11 and the MCC once again this year.
Always keen to put something back into the community by supporting local sport, the MCC match with Hulme Grammar has been a fixture we've supported for over 15 years at Werneth Cricket Club.
Each year the MCC takes part in over 500 matches around the world of which no less than 280 of these games are against schools from both the public and independent sectors.
The aim of MCC is to give talented young cricketers the chance to receive top-level coaching and playing opportunities whilst furthering their education by providing schools with quality experienced opposition who can act as role models and as ambassadors for the great game and the 'Spirit of Cricket'.