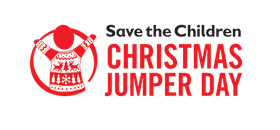 It's that time of year again and staff at North Ainley are wearing their Christmas jumpers to raise money for Save the Children.
Work is much more fun when you're wearing a jumper with a penguin on it.  Or a reindeer.  Or a load of tinsel…So get on board and tell your colleagues to get Christmassy!
Each member of staff is asked to make a donation which  could change a child's life.  It could help them grow up healthy and safe, and get an education, so they can grow up to be who they want to be.  Once again we hope to raise funds for this worthy cause.  For more information on the great work that Save the Children do click here.
Visit our Facebook page to see our staff in their festive knits and some jiggle boomerang's!?!