On Saturday 7 July 2018, Team North Ainley took on the 'Saddleworth Three Peaks Challenge' – organised by registered charity Mahdlo Youth Zone, to raise money for its state of the art facility in the heart of Oldham.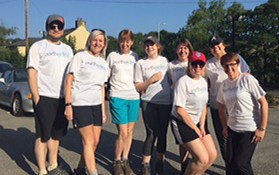 As the day approached and the heat wave showed no signs of subsiding, extra sunscreen, sunhats, ice-packs and lightweight everything was panic bought and we wondered whether it would be deemed too hot for the event to go ahead.  We then heard that as one of the peaks (Indian's Head) was off limits due to the moor fires it would be replaced with a mystery 'peak' on the day….the fear of the unknown set in!
On the day, we all arrived bright and breezy at the starting point (Royal George in Mossley) to find the sun still had its hat on and that we were technically climbing 4 peaks (thanks for that Mahdlo/Chris Wareing!).  The route included Dovestones, Pots and Pans, Alderman's Hill, a particularly gruelling section up Lark Hill from Dobcross, along the Delph Donkey Trail and a final push up Wharmton Hill.  The sun beamed down all day and our feet nearly gave up but we were rewarded with amazing views and a fantastic sense of camaraderie between the 90 walkers who took part.  That said, the hills were no match for our very own Laura Brennan who was first back having completed the route in just over 5 hours!!
Congratulations to all our team who took part (Laura Campbell, Alison Winterbottom, Lisa Yates, Val Stocker, Laura Brennan, Jill Gregory, Jamie Holmes, Sophie Lee) flying the flag for North Ainley and raising essential funds for Mahdlo.  With some sponsors still to be collected, we are thrilled to report that our total raised currently stands at £875 – which is just fantastic for a one off event.  A big thank you to all the firm's friends, family and clients who sponsored us, we hope we did you proud!
If you didn't get chance you can still sponsor us on the link below until 31 August  2018.