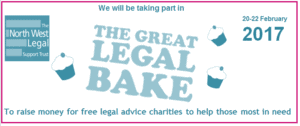 North Ainley Solicitors will be taking part in this year's Great Legal Bake, as supported by The Oldham Law Association Committee.  We will be baking cakes and raising money for pro-bono legal services on Thursday 23 February 2017 at our office at 34-36 Clegg Street Oldham OL1 1PS between 9:30 am and 1:00 pm.
We would like to invite all of our clients, family and friends to this fantastic event.  We will be turning one of our meeting rooms into a "pop-up" cake and coffee shop for your enjoyment.  All of the cakes and coffee will be donated by North Ainley staff, friends and family.  We ask simply that you make a donation as all money raised will be shared between the North West Legal Support Trust and Oldham CAB; 50% each.
Access to legal advice and services is hugely important.  For the poorest and the most vulnerable people in the community, access to justice is out of reach.  Free legal advice can make a huge difference to their lives.  In recent years, poverty has increased and support services decreased.  Meanwhile, funding for specialist advice centres has reduced; particularly since the 2013 removal of much of the legal aid previously available for humanitarian or social welfare legal advice.
The list of people helped by this free legal advice includes;
Families living in terrible housing conditions
Elderly people who need support to stay living independently
Women and children who have been trafficked to the UK to become domestic or sex slaves
People who suffer disability or illness and their carers
People who have been unfairly dismissed or who are discriminated against at work
Men and women who are working for less than minimum wage
We look forward to welcoming you to North Ainley to support this fantastic event.
For further information, please contact Charlotte Pritchard, in our Private Client Department on 0161 624 5614 or [email protected]