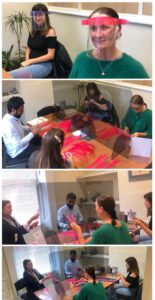 We have seen many dedicated volunteers across the country supporting those working on the frontline in the fight against COVID-19 by producing and donating vital personal protective equipment and members of the North Ainley team wanted to get involved.
In a combined effort with a local school, members of the team, some of which are presently on furlough, helped assemble visors for Royal Oldham Hospital.  We set up a production line out of office hours, utilising newly installed screens and sanitising stations combined with social distancing measures to help produce the much needed visors.
Speaking to a local doctor at the hospital we established there was a desire for visors, which we understand work much better for the staff than goggles and a mask.  We set about and obtained all the materials required and helped produce the visors for NHS medical staff at the local hospital, who were more than grateful when we delivered the equipment.
The coronavirus pandemic has dramatically changed the way we live our lives and and in these difficult times it is vital that we all pull together to help everybody in our local community.
If you require assistance or advice in these uncertain times, or perhaps are looking for volunteers to help with a project, please do not hesitate to get in touch.
30 June 2020