Getting money from our Head Cashier is often compare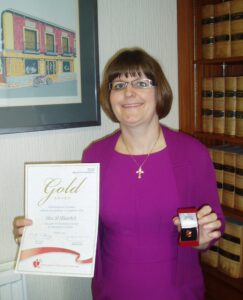 d with 'trying to get blood out of a stone!' But when it comes to giving blood, Marie Hluschyk is always at the front of the queue.
Marie has recently been given a Gold Award by the NHS Blood and Transplant for providing 50 donations of blood.  She first gave blood when she was 18 and continues to this day.  Not that Marie is unique but her blood group AB RH Positive is not common and always in demand.
Good to know that our people at North Ainley Halliwell are public spirited and try to make a difference.