It's Dementia Awareness Week this week so why not join us and become a Dementia Friend?
If you are worried about dementia, confront your concerns and talk to the Alzheimer's Society.  One way that people can confront dementia is by becoming a Dementia Friend.
By becoming a Dementia Friend you can learn more about dementia and how to turn that understanding into action to help support people affected by dementia.
It's really easy to do – just watch the online video or join a face-to-face Information Session.
Find out more at www.dementiafriends.org.uk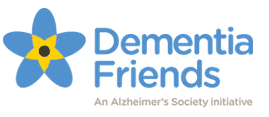 A study carried out by Alzheimer's Society has found that over half (56%) of people are putting off seeking a dementia diagnosis for up to a year or more. Dementia is the most feared health condition in the UK, perhaps explaining also why almost two-thirds of people surveyed (62%) felt a diagnosis would mean their life was over.
225,000 people will develop dementia this year – that's one person every three minutes. The leading dementia charity is warning that a lack of diagnosis is denying many of these people the chance of getting the best possible treatment, information and/or support – evidence shows the earlier on you receive these, the better your chance of living well for longer. It also means that thousands of people are not being enabled to plan for the future while they still have capacity to make important decisions.